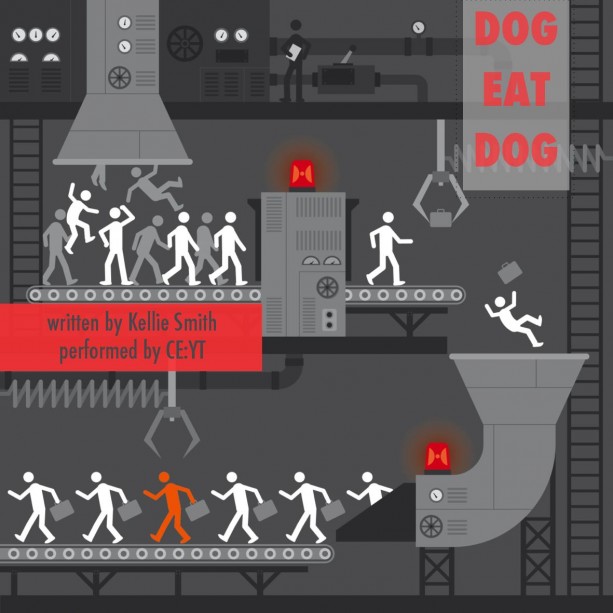 Collective Encounters' Youth Theatre presents:
Dog Eat Dog
A new play by Kellie Smith
Directed by Matthew Elliott
"If you perform well, then you'll see it reflected in your pay packet"
Clara leaves school with few qualifications but manages to secure a job in a local meat factory. Clara lives with her Mum and her Granddad on a local housing estate where the gentleman callers are the kind that take away your white goods, because you haven't kept up with pay day loan repayments. New from Liverpool writer Kellie Smith comes a Collective Encounters' commissioned play Dog Eat Dog which exposes the challenges faced by young people growing up in poverty and surrounded by inequality, through one young woman's political awakening. Dog Eat Dog is performed by Collective Encounters Youth Theatre.
Dog Eat Dog toured in the North West on the following dates…
Friday 1st August, 7.30pm
The Bluecoat, School Lane, Liverpool, L1 3BX
Monday 4th August, 7.30pm
Wirral Youth Theatre, 1 Pilgrim Street, Birkenhead, CH41 5EH
Tuesday 5th August, 7.30pm
Theatre Factory, The Cooke's Studios, 104 Abbey Road, Barrow-in-Furnace, Cumbria, LA14 5QR
Wednesday 6th August, 2pm
Action Transport Theatre, Whitby Hall, Stanney Lane, Ellesmere Port, CH65 6QY
Thursday 7th August, 7.30pm
Z-arts, 335 Stretford Road, Manchester, M15 5ZA
View the programme
Watch the trailer:

Is there anything wrong with this page?