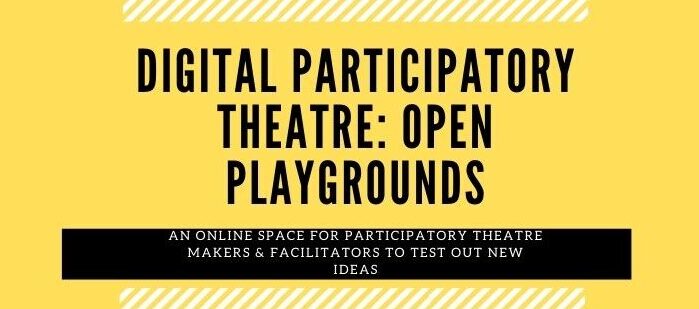 Digital Participatory Theatre: Playback Theatre
22nd October 2020 at 11:00 am

-

1:30 pm
Following on from the first series of 'Open Playground' events, we are excited to host four new events providing an online space in which participatory theatre makers and facilitators can connect with their peers and try out new ideas.
In response to practitioners who attended the first 'Open Playground' events, each new playground will focus on a different form of participatory theatre with an emphasis on exploring the possibilities of delivering these forms online (full details below):
Playback Theatre (22nd October)
Living Newspaper (29th October)
Forum Theatre (5th November)
Devising (12th November)
Each 'Open Playground' will be facilitated by a member of the Collective Encounters' team, with contributions from a guest practitioner. These sessions will go beyond workshop games to explore how practitioners are delivering the fundamentals of these forms online.
These 'Open Playground' events are not training events but facilitated forums in which new and emerging practice can be tested and shared.
For background information on some of the challenges and unexpected benefits of delivering participatory theatre online please read: Delivering Participatory Theatre During Social Distancing: What's Working?
These 'Open Playground' events form part of Collective Encounters Centre for Excellence in Participatory Theatre sector support programme during COVID-19.
22 October: Playback Theatre with Dr Aylwyn Walsh
Playback Theatre is an improvisational form of theatre in which audience members tell stories from their own lives and watch them recreated onstage. Founded in 1975 by Jonathon Fox and Jo Sallas, Playback theatre is facilitated by a 'conductor', who acts as a conduit between the audience and a team of actors and a musician. In some forms, especially groupwork settings, the audience themselves become the Playback actors. Playback theatre is now used across the world in educational, community and therapeutic settings, to bring individuals together to share, connect and investigate issues of society, politics and justice.
Dr Aylwyn Walsh is an associate professor in Applied Theatre at the School of Performance and Cultural Industries, University of Leeds. Specialising in performance and social change, in recent years Dr Walsh has focused on practice in women's prisons, mental health contexts and its implications for activism. Over 2019/20 Dr Walsh led international projects with young people in South Africa as part of Changing the Story "to establish a sense of place beyond systemic identification of place with gangs, drugs and violence".
You will be sent a link to the zoom session after registering online.
Share This, Choose Your Site!