In 2020-2021 our Radical Makers were…
Wendi in an actress and vocalist who has studied performance arts at HE. She's recently completed the Confidence Through Creativity programme and joining Radical Makers felt naturally the next step. She plans to use her skills to develop & facilitate classes focused on bereavement for children and young adults, a subject that is significantly close to her heart.
I joined my first community choir in 1977 at the age of 11, and continued singing with a variety of choirs until adulthood.
Although I have been doing things with words and language for most of my life, it was not until a few years ago that I started creative writing.
I became involved with Collective Encounters in 2017, when I had my first experience as a stage actor. This was in the play "Cracked", which was performed at Liverpool's Everyman Theatre and at other venues around the City.
My mum and dad were both performers dad a musician mum a dancer
Music and singing was a constant in our house, we would act out films and take on different characters in a fun not serious way
I joined a drama group in 2008 and gained some confidence to perform
I love going to the theatre, art galleries and museums
My dad in white
The arts have always been an essential part of my life. I believe in the power that creative arts have to facilitate positive change. My passions are in theatre, singing, music, art and crafting. I love working with people especially those who might not traditionally feel confident to get involved.
I'm Megan and I'm currently taking part in the Radical Makers course at Collective encounters. I have always had a love of theatre and up until the age of 16, I was part of drama groups and studied theatre but lost touch with it up until now. I currently run a weekly drama club for kids in the Tower Hamlets area which I absolutely love and I have a strong interest in Theatre of the Oppressed and using this as a tool for social change. I could not believe that Collective Encounters combined my love of theatre and my passion for promoting social and political change and had to discover more.
John has been an actor for over 20 years He is the co-founder of One For All Productions ,working with marginalised communities and individuals. As a theatre maker devised, directed and produced "84" a play about women involved in the Miners' Strike. He is experienced in developing and facilitating projects that give a voice to those on the fringes.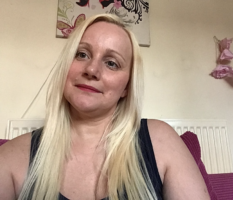 Heidi is a mum to Hope 13 years, she lives with her 3 cats. Heidi has a degree in Sport studies and Business Management. Heidi is an actress and singer/songwriter. Heidi studies Song, Acting & Dance at Lipa. Her singer name is Harmoni Zax and her published songs are under this name. Heidi's most recent acting role is Laura in After Affects 2020 available on Amazon Prime.
I am an actor/writer and certified kickoff from Kirkby. I want to be a mouthpiece for the voiceless 'underclass' on both stage and screen. I am on this course as I want to galvanise those that don't typically feel welcome in theatre spaces to create art.
I'm an artist and filmmaker. I make narrative shorts as well as more abstract pieces of video art, usually making the invisible goings on in my head visible. Radical Makers struck me as an opportunity to experiment with new processes of co-creation in drama and to think further about 'community'.
I was creative as a child, but as I got older, other things took control. 10 years ago I joined a writing group, and heard about Collective Encounters who either enchanted or bullied me (not sure which!) onto stages at The Casa, Royal F×××××× Opera House and Bold Street. I had to leave for that old one, personal reasons, and I found myself in a creative desert.
Then I heard of Radical Makers. I was impressed with the manifesto. I want to know more about how performance can effect social change. I want to write a hard-hitting piece and get it performed, by people in crisis that would never think of themselves on a stage, like I was.
I am most interested in the positive impact that the arts can have on community wellbeing, and their role in highlighting the need for social change. I'm an active member of the Collective Encounters Above and Beyond project, and the Spider Players. I have also performed with local community groups: Bring the Fire Project; Stay Beautiful performances; the Alternative Fashion Festival.
In May 2021, the Radical Makers group shared two digital performances on the theme of division using transmedia storytelling, devised and participatory theatre techniques.
Their performance was recorded live via Zoom and made entirely under lockdown conditions.
'Divisions' was created by the Radical Makers cohort of 20/21: Tim Bowman, Tina Curtis, Laura Hall, John McMahon, Wendy O'Connor, Tom Shennan, Heidi Robinson, and Daryl Rowlands, with Artistic Director Sarah Thornton and Course Director Aidan Jolly